*** OK now that you're here where should you go next? ***
DMFilms (my film making site)
The Dags Live Journal (my old blog which I no longer update)- Note: this will take you to another site
My Batman collection (a page devoted to my Batman merchandise collection)
Daggy Bits (the name says it all)
The Geoffro Page (a page devoted to my best mate Geoffro)
Who is Dags? (details on what makes The Dags ... so daggy)
*** A quick summary overview of The Dags ***
Dags is a mega cool dude who resides in Melbourne, Australia. Although generally unknown to world at large (for now), he does have some small claims to fame.

Aside from once being a serious Batman merchandise collector (refer to the Batman Collection page for more details), Dags has been involved in his local Science Fiction fan community since 1984 which has seen him run his own conventions; edit both his own and other fan club newsletters; make his own award winning costumes; produce and direct his own fan film; and he once even ran his own club - so you can kinda say he's been around a bit. If you want to see a comprehensive list of what The Dags has been up to, just go here.

Dags was also a co-founder of Star Walking Inc: the Star Wars Appreciation Society of Australia back in 1988 and was on the committee of this club for 23 years before retiring in 2011 ... only to return in 2013 (thanks to Disney's takeover of Lucasfilm) and retiring again in 2017 making a total of 27 years service!

One of Dags' biggest achievements was editing 37 issues of the club's monthly newsletter The Force which he successfully turned into an all-digital publication in 2014.
Being involved with Star Walking meant Dags was able to achieve a lot in the Star Wars fan community, including:

- Visiting Skywalker Ranch in 1993 (look there he is! Second from the left)
.
- Appear on TV game shows, such as Family Feud TWICE (2008 and 2017) and WINNING on both occasions too no less, as well as 1 vs 100
.
.
- Appears monthly as one of the four presenters on the almost world famous Star Wars podcast Star Talking
- March in the 2009 Moomba parade as a Star Wars character (though just quietly, he also marched in the parade as a Star Trek character back in 1987, shhh)

- Help organise a large number of Star Wars conventions and themed banquets

- Appear in a number of costumed product launches and gala events

- Appear in the internationally released Star Wars documentary The Phandom Menace which presented The Dags with his first entry onto the IMDB.

But the life of The Dags doesn't just revolve solely around Star Wars oh no, no, no. As it turns out The Dags is also a big Star Trek fan and has been involved in his local Star Trek fan club Austrek since 1984! In fact The Dags is the club's longest serving active participant - as in attending meetings on a regular basis - and for this reason he was made a Life Member back in 2016 ... but don't panic 'cause The Dags was made a Life Member of Star Walking years before that.

But let's move away from the Sci-Fi community for a tick.

From 2004 to 2012 The Dags pursued one of his greatest passions, film making under the banner of DMFilms. It was this interest which eventually led him to start up his own corporate video making business Lights Camera Action Productions in 2018.
It was his passion for films which allowed The Dags to create a number of short films whilst helping others with their productions as well - including some professionally paid ones.

Want to see a classic Dags production? Well just get a look at this... (running time 5 mins)
and there's this... (running time 7 mins)
and if you haven't had enough yet, then try this... (running time 6 mins)
If you're keen to see more Daggy productions, then just go to the DMFilms website

Since completing his film making endeavours in 2012, The Dags focused his energy on running Science Fiction conventions such as Con 9 From Outer Space in 2012, Con 70 - A Retro Sci-Fi Adventure in 2015 and Con 80: The Ultimate 1980s Sci-Fi Experience in 2017. Honestly, where did he find the time!
.
Now because The Dags has been actively involved in the local Science Fiction fan community for soooo long (over 35 years and counting), for the past few years he's been writing his fandom memoirs, the idea being to recount as much of Dags' fandom history as possible for prosperity. It'll definitely make for an interesting read when finished that's for sure.

And last, but certainly not least, after achieving everything listed above The Dags felt he still had some creative talent left in his aging body so he decided to produce his own Science Fiction talk show. Sci-Fi Zone (or The Zed as it's commonly known) was a passion project for Dags as it allowed him to talk about all facets of the Science Fiction genre as inspired by his previous conventions.
.
In his normal life (yes believe it or not he does have one), The Dags lives in a modest three bedroom home which contains a room full of Batman merchandise, 2 lounge suites, his wonderful other half (Lynne) and his adorable cat (Lulu).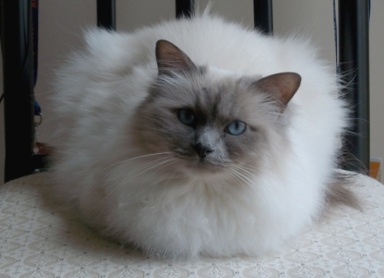 Blessed with an array of great friends and supporters, Dags acknowledges the three loves of his life - besides Lynne and Lulu:

1) His house (officially named Sylvia but more commonly known as The Dag House)

2) His bed - as Dags says "I never met a sleep-in I didn't like"

3) The Sci-Fi fan community - which has has truly shaped him into the Dag he is today.

Now there's a lot more exciting stuff to say about our ever popular Dags, but we suggest you check out the Who is Dags section of this site for that.
.