From most recent to the oldest.
It took a while to get it going, but I'm now Producing my own weekly online TV webseries called Sci-Fi Zone which I'm pretty happy about. It's good to finally get some of that nerdy knowledge out of my head and onto the screen.
.
Not only was winning Family Feud again in 2017 a blast, but we all scored a free trip to the USA from it!
.
Being made a Life Member of Austrek in 2016. After being a part of the community for 32 years (at that point) and knowing more about the club's history in that time than anyone else, I was rapt to be awarded with this honour. Naturally I'm still a part of the club and continue to attend their events.
Standing on the apartment balcony of a cruise ship in New Zealand looking down at the people on the dock. For decades I would be the person on the dock looking up at these lucky people in envy wondering "how did they get there?" Finally the situation was reversed which was immensely satisfying.
Hanging out at a pub with all my buddies. I organised a Bucks Night for a mate's wedding in 2007 and he wanted to start off with a get together at the Elephant and Wheelbarrow pub in the city in the afternoon. As a non drinker I don't go to these venues but when we were all together, laughing, joking and eating lotsa hot chips, it was a blast of a good time.
Having a ride in a super stretched limo that was soooo long the rego plate had it listed as an 'Accredited Bus'. The event was a friend's wedding of which I was Best Man. The trip involved drinking Coka Cola out of champagne glass as we cruised around the City and up Lygon St having a great time cracking jokes and singing songs on the radio. Absolutely fantastic.
Being a part of the Star Wars team for Bert's Family Feud in October 2008. Our Star Wars team took on a Star Trek team and it was the most amount of fun you could imagine - it also helps that our team won! It was great for us as we were all playing for charity so there was no pressure. Moreover, our Star Trek opponents were all great friends of ours, there was no way we weren't going to enjoy ourselves. Loved every minute of it.
.
Spending a weekend veggin' in front of the telly. Sure it's sad to have this classed as a memorable event, but if you know the busy type of life I used to lead, then you'll know it was indeed a luxury. On top of that, one entire day was spent watching a 14 episode 3rd season marathon of Deep Space Nine on Foxtel at a friend's place. I might be a nerd, but on that day, I was a very happy nerd.
In around 2005 one of our friends booked a luncheon at this fancy city restaurant which was so popular you had to book a table six months in advance. Well after waiting for what seemed like forever, our lunch date finally came around so when our group of 10 friends rocked up, they put us in our own fancy room with our own dedicated waiter. Now it was already a buzz just being there, but we had a fantastic time because the food was excellent and the company (all of us Sci-Fi fans) was great. Even though it was one of the most expensive meals I've ever had, it was worth every penny just for the experience.
For two decades I was renouned for always being the last person to leave a party, what can I say but I liked to party on to the very end. Well in 2006 I attended a 40th birthday bash after completing a gruelling all day shoot for one of my films and I was totally stuffed. So at 11pm I opted to leave and people were so shocked at my impending early departure that they actually took photos of me with clocks in them for prosperity!
Getting a surprise birthday party for my 39th birthday in 2006. Yep I walked through the door into darkness and got met with a chorus of SURPRISE!
Halo 2, later to become Call of Duty 2 then Call of Duty 4, Xbox nights with the lads at Adam and Cheryl's. Big screen, big sound, great games, great company, lotsa Coka Cola, lotsa chocolate and lotsa killin'. I tell ya, who could ask for more!
Starting off my brand new DVD collection with a $20 purchase of Plan 9 From Outer Space - well you've gotta start with something good enough that all your other purchases will be judged by! Speaking of which, be sure to check out my classic film collection
My best mate Geoffro getting married (when Lake Wendouree still had water in it)
.
The Sydney bus trip from 2002. A bunch of us hired a couple of buses and headed up to Sydney for the Star Wars Magic of Myth exhibition/Jedi Con. We were high on Coka Cola, energy drinks and chocolate for both the trip up and back, eventually my voice gave up from all the laughing. It was one of those "you had to be there moments" and fortunately a good portion of the bus trip was captured on a number of video cameras.
Seeing in the year 2000. I can honestly tell you exactly where I was and what I was doing at the stroke of midnight. I thought the year 2000 was a great chance for the world to fix its problems and start afresh in a new century/millennium, but alas that didn't happen. BUT I did keep a lot of 2000 mementos from that night which I still have.
Room 30 at Force III in 1999 which was party time central! We had such a good time that my girlfriend (who I met at the con) and myself went back to the hotel one year later to celebrate our anniversary in the same room.
Becoming immersed in the world of Internet chat rooms throughout the mid to late '90s. I made many wonderful "on screen" friends from North America at A Chat Place (part of Earthweb), and it was really disheartening to see it eventually close down as I effectively lost all my online friends overnight.
The room party at Force II in 1997 with the NSW Star Wars fans. This was a major nerdfest night where we actually had a "nerd off" contest - PJ and I took on the NSW guys to see who knew the most Star Wars trivia. I reckon we won that one easy. As a Star Wars fan it was a truly joyous night.
Being an integral part of the successful Star Wars 20th Anniversary Celebration Banquet in 1997 which was held in an aircraft hanger due to the scale of the event! In fact I defy any other Australian sci-fi banquet to top the scale and quality of that night. As it turned out even the Star Wars 30th and 40th Anniversary Celebration Banquets held in 2007 and 2017 respectively (also run by us) didn't come close to it.
I was at work one time in the 1990s visiting a customer and noticed as I was leaving that a group of people were trying to get a Mainframe emulator to run on a PC, and as I had some experience setting these up I opted to help them out. So I sat down and started clicking icons, adding IP address strings and doing all this other stuff while they stood there watching bewildered at what was going on. Now because they WERE watching so intentely I was certain it wasn't going to work which would've been a major embarrassment for me. So with my breath held, I clicked the application icon and ta da I got the login screen! I left them to it with a "my work here is done!" attitude and felt like the world's best PC engineer which put me on a high for the rest of the day.
In 1996 we held our first ever Sydney Skyforce social club meeting which was a phenomenal success with hundreds of people turning up. Afterwards our Melbourne contingent/support staff and Sydney helpers (around 25 people) all went out to dinner to celebrate. We ended up at this little pizza joint that connected all their tables together so we were the only people in the place. After having such a great day and being on such a high, the dinner was a fantastic night full of fun for everyone and I don't think we could've loved Star Wars and our club anymore than we did that night.
Being told by the Toyota HR department in the mid 1990s that I got the job in the computer department after beating 16 other applicants and having only 8 months of theoretical knowledge on PCs. Prior to this I was a security officer at Toyota for six years, talk about a significant career change.
During Easter 1995 we held our first ever Star Wars inspired convention called Force I, for which we spent Good Friday setting everything up. With the excitement of the impending event upon us, we had over 30 extra people there just wanting to help out. As part of my job, I was putting some AV gear together when I saw three guys, all from different states in Australia, talking about Star Wars comics. I then realised that these guys didn't know each other which meant new friendships were forming right before my eyes even before the convention had officially started. It was at this point I discovered just how great the Star Wars community truly is and how important it was for me to continue my role as a club/convention organiser within it. Since then of course our social club has been responsible for many friendships, relationships and even marriages. For myself I finally retired from the committee in October 2011 after 23 years of service ... only to rejoin the committee again from 2013-2017.
Doing some live singing acts with Geoffro in the 1990s, including our version of the Monster Mash, the 13 Days of Halloween (effectively the 12 Days of Christmas but with a sci-fi theme) ...
.
... and the now famous Elvis Brothers where we sang "Are you Lonesome Tonight" whilst being bombarded with tons of never ending streamers from the audience. It was a crack up especially as we just kept right on singing ... badly.
.
Discovering personal computers: I once went past a computer store in the early 1990s which had this text advertised in the front window "486DX6616MbRAM101K/B200MbHDD" and I actually KNEW what all that meant! Eventually I would work in the IT industry for over 20 years.
Creating an 'instant panel' with Geoffro in an empty panel room at a sci-fi convention one day, we finished with an audience of 16 people who came to watch us yapping away not realising we were just making stuff up as we went along.
.
Going to America and visiting Skywalker Ranch in 1993. This is our group out the front of the Main House - I'm second from the left (George Lucas' office is top right).
.
Getting the 5th highest score on Steve Sansweet's (the worlds largest Star Wars collector) Star Wars pinball machine. I took a photo of my name up in lights and everything!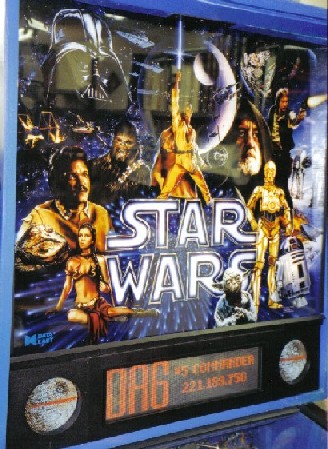 .
Buying an unpackaged Batman collectable whilst in the US, only to discover when I got home that I already had one "mint in packet" on display in my bookshelf. Doh!
And yet another great US story. On this particular day our host invited one of our four guys and myself to an outdoor movie screening in a park on the other side of San Francisco Bay. Unfortunately when it finished we needed to be driven back to our hotel in the city, but our host only had a two seater car and there were three of us! So what to do? Fortunately our host owned a Mazda MX 5 convertable so with my buddy in the passenger seat, I sat on his lap and it was just soooo lucky the roof came off because my chest and head were above the roof line. Sure enough we drove across the Golden Gate Bridge like this with me in the open air doing what in four years time would be classed as my best "King of the World" impersonation. The really funny thing is the dude taking our toll money didn't even give us a second glance, yep, it was just another night in San Fran!
I went to a guy's 21st party where a pool table was setup in the loungeroom. Towards the end of the night three guys and myself started playing a few games, eventually finishing at 10:30am the following morning. It was funny seeing people go to bed, only to wake up in the morning to see us still playing. We knew it was getting late when we could suddenly see chairs and tables through the outside windows that were previously all dark. Funnily enough that guy made contact with me in 2018 after not seeing him for 25 years.
All the parties (mostly in the the 80s and 90s) where I enjoyed fantastic indepth science fiction discussions. These usually occurred late at night when things were quiet, people were relaxed and the real nerd in me rose to the surface.
Going to Adelaide in October 1987 to celebrate Star Wars turning 10 (Australian release). A bunch of us drove a Tarago over to SA and had a really wonderful time with our fantastic Adelaide hosts. The funny part was us driving to the venue for the banquet and getting lost. We kept doing U turns everywhere as everyone in the Tarago kept saying "turn here, turn there" to the poor, hapless driver. As the locals looked on in astonishment all we could do was yell out the window "it's OK, we're from Victoria!"
Back in the 1980s, the Star Trek club I was a member of had a costumed ten pin bowling night and I got dressed as the Grim Reaper, which meant I had to bowl with a skull mask on. Even though I couldn't see properly I still got strikes and even won a game or two.
Going to a local theatre group called Starforce one Friday night back in October 1984 and discovering science fiction fandom. I knew immediately this was the "social scene" I would forever be in ... and after 34 years I'm still a part of it. Funnily enough I ended up being the longest serving member of Starforce for four of the group's five years.
Seeing a preview screening of Return of the Jedi on August 14 1983, two months before its official premiere. Had front row seats and sat right in the middle - just what any sixteen year old kid would want. Mega awesome!
.